Christmas

will fill you

with joy and love

Christmas greeting card image with message: I hope this Christmas will fill you with joy and love.
Beautiful image with a purely Christmas theme. A sleigh like Santa's filled with tangerines, a fruit that fills tables around the world at Christmas. A few pine cones and snow perfect the magical atmosphere of the end of year celebrations.
If you like this image with tangerines, you can immediately share it on any social network, simply by clicking on the appropriate button. All our images are free and free for any use. Alternatively, you can download, edit or print it and use it however you wish.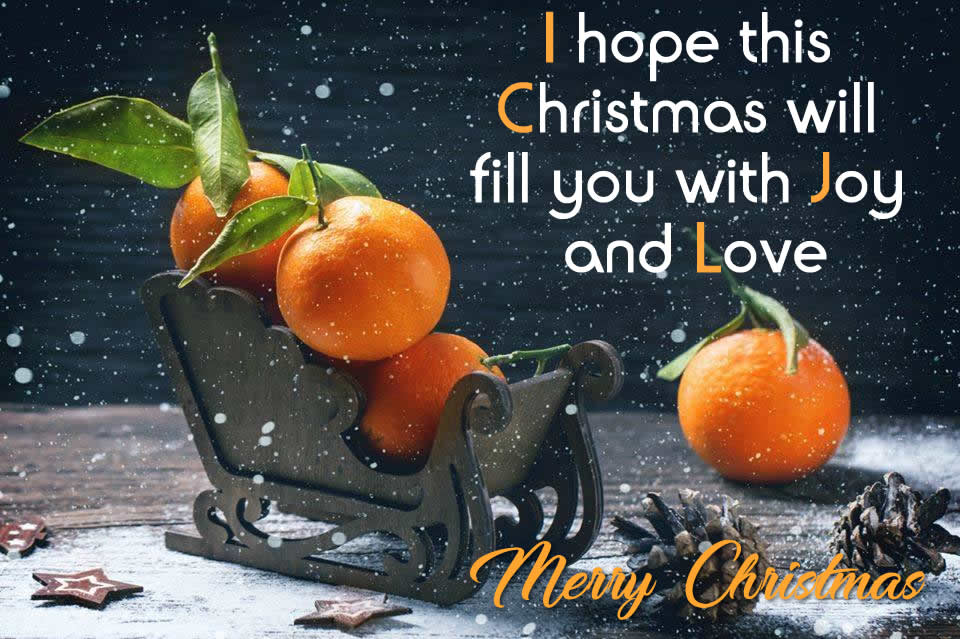 ---
---
Mandarins,

Christmas fruits

Tangerines are in fact associated with the Christmas period in many regions of the world, particularly in Europe and North America. Here's why they are often considered a Christmas fruit:
1. Seasonal Availability: Tangerines are usually available in abundance during the Christmas period, making them a popular seasonal fruit.
2. Ease of sharing:Tangerines are easy to peel and share, making them ideal for family gatherings and Christmas celebrations, where people often like to offer fruit as snacks or desserts .
3. Symbol of generosity:Giving tangerines at Christmas is considered a gesture of generosity and sharing, recalling the tradition of giving fruit and gifts during the holidays.
4. Symbol of Prosperity:In some cultures, tangerines are considered a symbol of prosperity and good luck for the coming new year. Their orange color is associated with wealth and fortune.
5. History of Tradition:The association of tangerines with Christmas dates back to local traditions and customs in various countries. For example, in Europe they were often put in Christmas stockings or used to decorate Christmas trees.
6. Sweet and refreshing taste:Mandarins have a sweet and refreshing taste that makes them particularly popular during the holiday season, when rich and hearty dishes are often consumed.

It should be noted that this tradition varies from region to region, and other fruits such as oranges, apples and nuts may also be associated with Christmas festivities in some cultures. Tangerines, however, are widely loved for their delicious flavor and positive symbolism during the holiday season.
---
---
Christmas texts with tangerines,
pine cones and Santa's sleigh
Here are some Christmas messages you could use for greetings, incorporating tangerines, pine cones and Santa's sleigh:

- Christmas is in the air, like the scent of tangerines and pine cones. May this season bring warmth and joy to your hearts!
- Like Santa Claus in his sleigh, may joy and happiness descend on your roofs this year. Merry Christmas!
- Tangerines, pine cones and Santa Claus are ready to bring the magical atmosphere of Christmas into your home. Best wishes for a bright and festive Christmas!
- In the heart of winter, tangerines bring a touch of sweetness and warmth. May your Christmas be just as sweet and warm this year!
- Santa Claus brings joy on his sleigh, while tangerines and pine cones decorate our tables. May your Christmas be full of joy and beautiful decorations!
- Tangerines are like little winter suns, and pine cones add a touch of nature to Christmas. May this season be illuminated by the light of your happiness!
- Santa Claus on his sleigh, tangerines and pine cones decorate our Christmas. May every aspect of your vacation be magical and special!
- As Santa Claus descends from his sleigh, may joy descend into your hearts. Best wishes for a Christmas full of love and surprises!
- Tangerines contain the sweetness of Christmas, while pine cones remind us of the beauty of nature. May this season be sweet and beautiful for you!
- Under the Christmas tree, next to the tangerines and pine cones, the most precious wishes are hidden. May all your wishes come true this year. Merry Christmas!
Choose the one that best expresses your feelings and the atmosphere you want to create for your Christmas wishes. May your celebration be bright, joyful and full of warmth!
Our site is full of images, phrases and postcards already complete, ready to send for the Christmas and New Year holidays, consult all our creations to choose the most beautiful and appropriate wishes.