ORIGINAL IMAGE

GREETING

2024

The new year is the right time to stop and reflect, think about how to renew and also hope for a better season. Many events are beyond our control, we can only welcome them and go through them in the best possible way. There have been and will be difficult days, with many struggles and falls, but there are also times full of love and gains, in the right measure. Dealing with events positively offers us the opportunity to always look towards the good. That is why we have selected some New Year messages that will make you think about this year. Share with friends, family and boyfriend.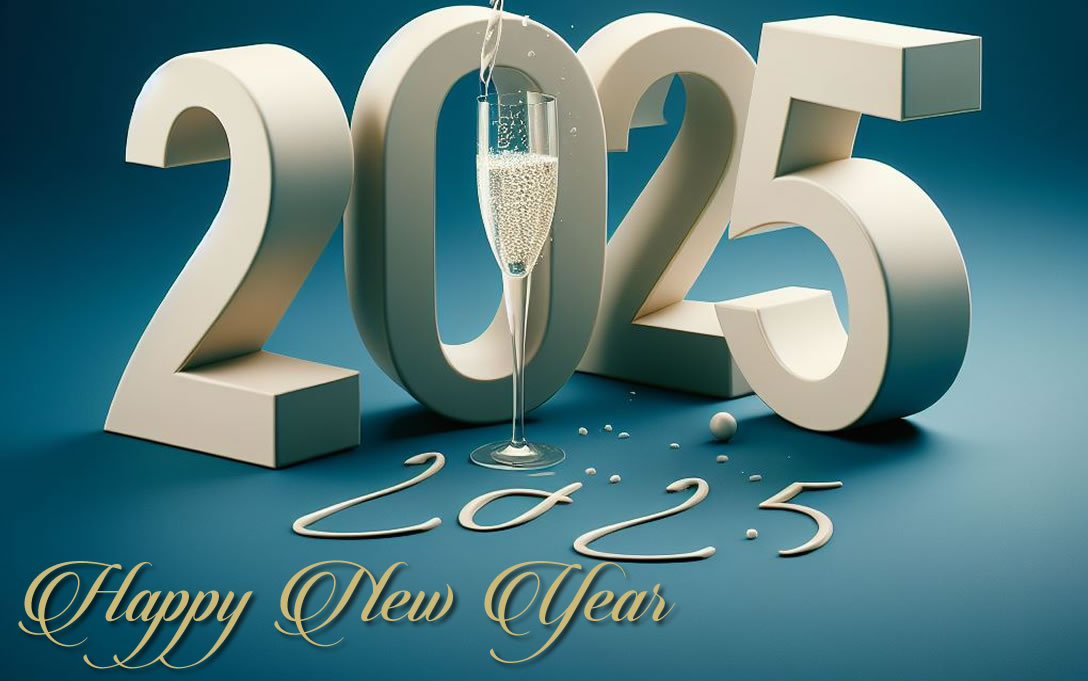 Original image, with a blue background, with the two number 2 of the new year forming a cup where champagne is poured to toast on the night of San Sivestro.
You can download this 2024 greeting card for free and use it, modify it and send it to whoever you want.
---
---
How nice it is to start the year celebrating with those we love! Everyone deserves a little happiness, and spending these days of celebration with parents, relatives and friends is everyone's desire. We do not take for granted the things we own, the people we love, that we are healthy, a job. Be grateful, and living these days with awareness makes us enjoy the holidays much more.
Below is a short list of thoughts, quotes, reflections and messages of good wishes to read, ponder and share.
Quotes, Messages and thoughts for
New Year's greetings 2024
• It is necessary to hope in dreams and be sure that everything will change. It is necessary to open our eyes and realize that good things are within us, where desires do not need reason, nor do feelings need reason. A good year for you !!
• Everything new is good, a car, a job, a new friend, a new year, but if we want everything to stay good, it is necessary to invest. In this new year, invest in new friendships, new dreams, new projects. Best wishes !!
• A motto and a flag to be raised: Always improving !! I want to reach the finish line on December 31st not as a winner, but with my record improved. The challenge is to overcome oneself, not to overcome others. The race to win is yours alone, of no other. A record 2024 !!
• On some days, when situations are difficult, even without faith, our eyes lift up to heaven in the hope of being heard and that our weakened heart will be strengthened miraculously. Don't be afraid or ashamed to pray, God listens to everyone. It is not at all fearful, on the contrary it takes courage to entrust oneself to God. I wish you a blessed year.
• A warm hug, strong and decisive, to my dear friend who I cannot see this New Year. A great 2024 for you, as great as my love.
• On New Year's Eve, in making the usual end-of-year report, will you be able to say mission accomplished? Evaluate your results and apply where there are resources and abandon goals that are not for you. Be objective in your goals for 2024.
• We spread good wishes for a happy new year to everyone on the right and left, but making the new year really happy depends a lot on the attitude of each of us. Happy Birthday !!
• A new period begins when the new year begins. It is a time when everything is renewed. Where the difficulties have passed, they will only be memories of overcoming. Where the new and the renewed is present, the possibility of generating a better life takes shape. Happy 2024.
• A sip of luck for 2024 is always needed. I wish you to enjoy it in this new year. Best wishes.
• To see new things in 2024, we need to make old, obsolete, ready to abandon and throw away things and situations that we continue to live through inertia and habit. It can be uncomfortable, but you have to make room and welcome the new. Happy New Year.



---
---

You can use these resources for free by sharing them on social networks such as Facebook, Instagram, Twitter, Whatsapp.
On the other pages of our site you will find many resources, ideas and tips on how to create and send happy New Year's greetings to your friends, colleagues, relatives and customers.