Children's images:

Coloring

the new year

New Year is a family holiday! Therefore, on this page, we have prepared for you coloring pages about the arrival of the new year with your family, friends and with a lot of joy.
These funny coloring pages 2024 show how we celebrate the new year and that the arrival of the new year is a big event: decorate the house, decorate the Christmas tree, welcome guests, open presents, watch the fireworks at midnight and throw confetti when everyone toasts together for the new year with kisses and wishes. All the coloring pages try to create the atmosphere of the New Year 2024.
In almost all the drawings there is a greeting text for the Happy New Year 2024, this is to teach the little ones the letters of the alphabet and the numbers with the current year, but also to be able to create fantastic Happy 2024 greeting cards to show and give to parents, grandparents and uncles. Maybe they are simple, badly colored or smudged, but remember that it took a lot of effort to make them.
Don't throw them away!! Keep them, in a few years they will become incredible memories, making children notice the incredible progress they have made from one year to the next. A good idea is to hang them on the Christmas tree or on the walls of the living room, even in the following years, perhaps when your children will be adults, they will be an occasion for laughter and truly pleasant memories of the holidays spent together.
All designs can be downloaded or printed for free directly from our website, the PDF format is a standard that allows perfect compatibility for all devices and printers. Such drawings will not only cheer you up, but also can be a pleasant holiday surprise for relatives and friends.
New Year's festivities must always be fun and one of the most beautiful activities with your children is to dress up in the most favorite and interesting outfit and participate in the New Year's Eve, with decorated hats, tmbettes, confetti and many other crafts that you can make with recycled.
A pandoro cardboard can become a nice hat or the silver threads of your tree of decorations on your dress.
It just takes imagination! Don't spend these holidays apathetically in front of the TV or smartphone. The days are unique and will never come back.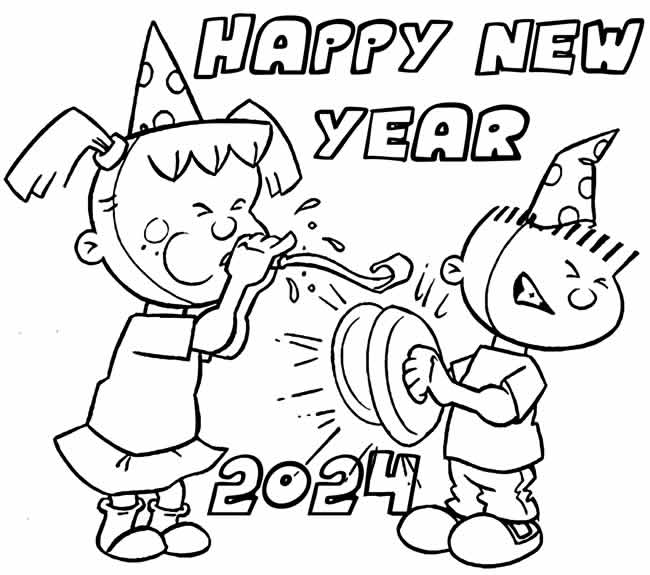 Nice coloring image with two children celebrating New Year's Eve cheerfully with text WISHES 2024
You can use this 2024 greeting coloring page freely, which you can download for free in PDF format, so that you can quickly print it and have it colored with pastel or watercolor colors to your children or kindergarten children or first grade schools. DOWNLOAD PDF COLORING PAGE 2024
---
Coloring pages 2024

The Year of the Wooden Dragon

Chinese horoscope

2024, according to the Chinese horoscope, is the year of the dragon (or dragon) Wooden, the period from February 10, 2024 to January 28, 2025 is the Dragon personifies the imperial power and the astrological symbol of 2024 is the mythical creature with tremendous power suitable for children who love this fantastic monsters. We have prepared some coloring pages with pictures of the dragon to celebrate the new year. Kids will love to color these designs so much, with the text of happy year wishes, so they can be uilizzato as card or New Year greeting card.
Image with cute dragon with a smoking mouth and happy new year greetings to download and color.
You can use this coloring page of the year of the dragon 2024 freely, which you can download for free in PDF format, so that you can print it quickly and have it colored with pastels or watercolors by your children or kindergarten or first elementary school children. DOWNLOAD PDF COLORING PAGE 2024
---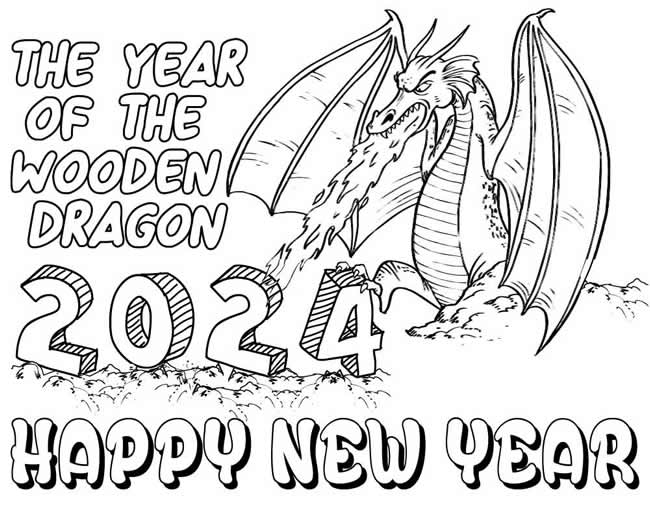 Image with dragon throwing fire from its mouth in 2024 with text "HAPPY NEW YEAR"
Print and color this beautiful image in black and white with aquerelli or pastels to create a nice New Year's Eve job to give as a Happy New Year. DOWNLOAD PDF DRAGON IMAGE 2024
---
Print and color

fireworks

new year's eve 2024

Fireworks, firecrackers, flares, barrels and sparkles are a classic of New Year's Eve celebrations. We always buy legal fireworks, so that the party is safe and fun. Even safer if we just look at them from the window, maybe those organized as a public event. Here we just offer you some coloring with firecrackers and New Year's Eve fireworks that you can color with flaming effects for a healthy fun of your children.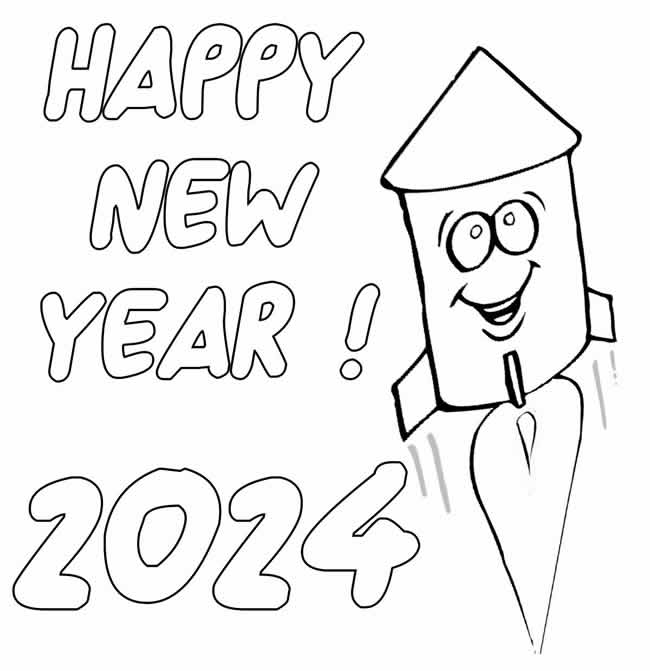 Children's drawing coloring page with petard that starts smiling and greeting text for the new year.
Print and color this cheerful drawing with cute firecracker that flies up smiling and making wishes. DOWNLOAD PDF Firecracker coloring page 2024
---
---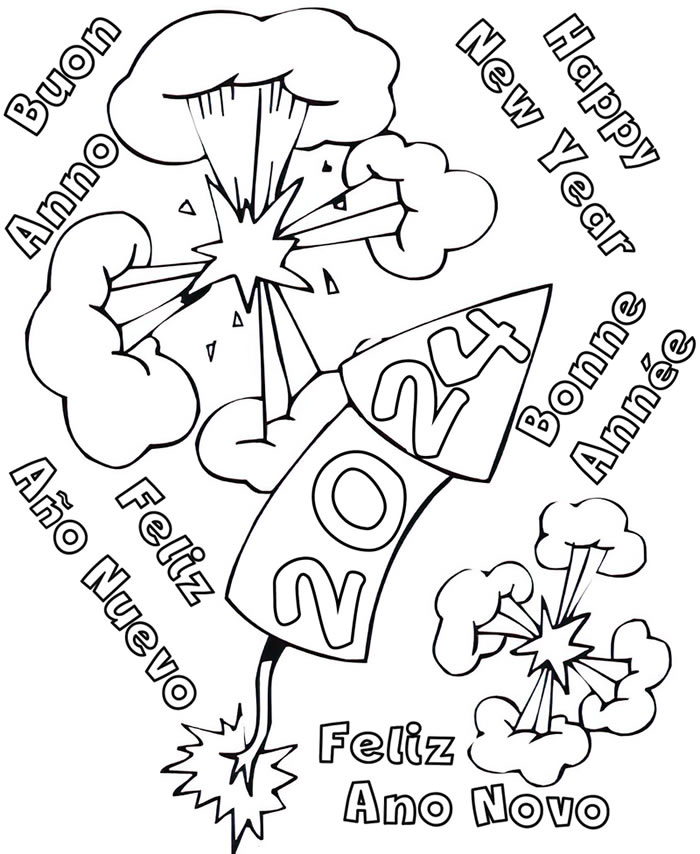 Coloring page with image of crackling fireworks and Happy New Year greetings in different languages. For older children, you can explain the languages and different pronunciations for wishing a happy new year in Italian, French, Spanish and Portuguese
Print this coloring page and colorful texts and fireworks. DOWNLOAD PDF COLORING PAGE FIREWORKS NEW YEAR
---
Funny happy new year designs to wish a happy new year
Of course, all children are looking forward to their favorite holidays - Christmas and the New Year! How beautiful it is to decorate the Christmas tree with colorful tinsel, hang bright garlands in the house, write letters to Santa Claus with innermost wishes and hopes. But it's especially nice to get New Year's gifts! Our New Year Coloring Pages can be a great holiday surprise for your child.
From which country does the fabulous Santa Claus come, hurrying to arrive on time with his flying reindeer sleigh? Where is the magical toy factory, which employs workaholic little elves?
What animals live in winter, in the snow, and how do the fluffy forest dwellers celebrate the holiday? New Year's coloring pages with fantastic characters will allow you to plunge into a magical fairy-tale world - colorful, cheerful, filled only with beautiful emotions. In this world you can fantasize and dream, learn goodness, learn what "friendship", "generosity" and "love" are.
Coloring New Year's pictures will captivate both the smallest artists and older children. For curious kids, this is an exciting creative activity that helps develop fine motor skills and memory. For parents, this is an indefinite transition to childhood, a great opportunity to once again plunge into the unforgettable atmosphere of a fairy tale and at the same time carefully find out what exactly the child wants to ask Santa Claus.
One touch of a magic pencil - and crystal icicles will sparkle, huge snowdrifts will grow in the yard, stars and balls on the Christmas trees will flare up! Each young artist will find pictures of him to his liking and will be able to decorate the most beloved ones again and again. End of Year Coloring Pages are a great way to brighten up your favorite kids' holiday anticipation!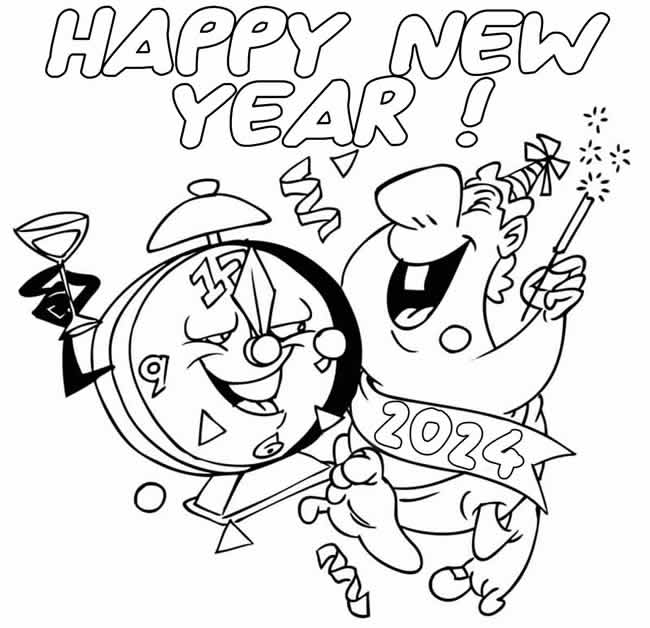 Drawing with fantastic characters who dance and toast on the night of December 31st.
Print this drawing (PDF) for free and color in the texts and characters. DOWNLOAD PDF IMAGE NEW YEAR'S TOAST