Greeting cards

Merry Christmas

2023

The arrival of Christmas is expected after the summer holidays and is, without a shadow of a doubt, the most beautiful time of the year, because in addition to being a time of celebration, it is a period that inspires good feelings of love and peace. December 25th represents renewal, harmony and love.
Furthermore, celebrating Christmas is very important for many families.
In fact these are moments of meeting and celebration and the best thing is being together. Parents and children get together, students return home, workers return for the Christmas holidays and distant relatives often return for this occasion.
For children it is a magical and wonderful period that will remain imprinted for life. The preparations for the Christmas tree, the construction of the crib, the exchange of gifts, the Christmas letters, the lunch and dinner for Christmas and Boxing Day, are indelible memories and become part of the idea of the family itself.
In this magical Christmas atmosphere that we can relive every year, there is nothing better than exchanging beautiful, loving and welcoming messages to show and spread the Christmas spirit.
Christmas invites everyone, believers and non-believers, to reflect on the importance of the birth of Christ, let us not forget that the Savior's birth is the confirmation of the promise of Gods to send his Son to Earth and, in this way , has brought the kingdom of the Father closer to humanity.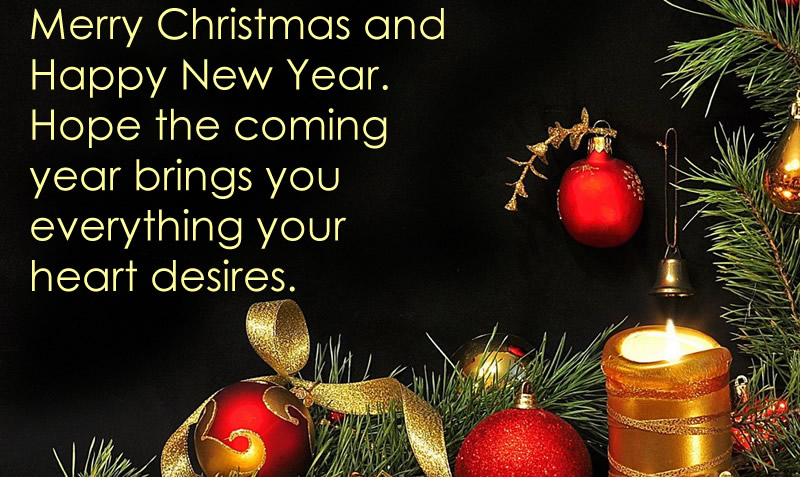 Dark image with fir branches Christmas decorations, candles and balls and happy holidays with greeting message with the text: Merry Christmas and Happy New Year. Hope the coming year brings you everything your heart desires.
Thinking about the covenant that God has made with us, the Christmas to celebrate is life, salvation, joy, peace, forgiveness, fraternal communion and represents all the good things that Christ gives us.
Christmas is the time of true brotherhood, which must take place among men of good will, a moment in which we must reflect on the value of our life and on how much we still have to learn to love our neighbors.
Here you will find tips for creating Merry Christmas quotes to use and send messages to anyone you want.
Merry Christmas greetings with love
The Christmas gift for the best boy
You are the best guy in the world and, as a Christmas gift, you deserve life to give you everything you've always dreamed of. I love you!
Christmas feels
We feel this Christmas with joy in our hearts, strength in thought and peace among all.
It's time to share magical moments.
It's time to love, take care and have fun together and in the warmth of family and friends. Merry Christmas!
It's time to celebrate the magic of Christmas
It's time to celebrate the magic of Christmas, the charm of the end of the year and the renewal of a new year to come!
It's nice to be able to spend those special moments by your side. Make this time even more incredible.
You are my greatest gift.
The real magic is to embrace those we love, be close to those special people and celebrate the love, life and purity of that time!
I want to be with you on all the special dates, so that they are even more important!
Protagonist of the Christmas party
This Christmas I wish everyone could celebrate with those they love most. There may be peace and harmony, and the big protagonist of the party is joy.
May love be reborn with strength in everyone's heart.
And that the gestures of affection and kindness are the main gifts exchanged; not only at this time, but throughout the year. Merry Christmas! Much peace and happiness for everyone!
Christmas is magical
Christmas came and with it a world of joy and peace.
Of course, the ideal would be that everyone knew about this state of harmony, but we hope that one day it will be possible. Christmas is the most magical time of the year!
Feel the love in the air and happiness on people's faces.
This is an extraordinary date for children and adults who receive gifts and live with those they love most in the tranquility of time. Merry Christmas everyone!
---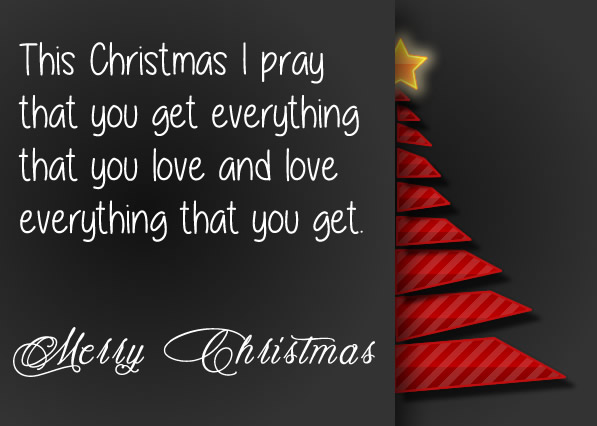 Christmas tree image with elegant black background with greeting phrase: This Christmas I pray that you get everything that you love and love everything that you get.
---
The magical Christmas message
Whenever this magical date comes, I feel that all miracles can come true and that nothing wrong can happen!
Christmas is the time of year that I like best, because family and friends are more present than ever.
And that's why I wish an immensely happy Christmas to all the people who live in my heart and in my thoughts.
It's time to celebrate everyone's love and conviviality. Merry Christmas!
Religious wishes for a Merry Christmas
A lighted Christmas
May the baby Jesus illuminate Christmas with the hope of better days and special moments in your life.
May He enlighten your family so that they never forget that understanding is the basis of everything.
May this Christmas be more than a party, whether it be the celebration of a new beginning full of peace and love among men of good will.
I wish you a merry Christmas.
A merry christmas
It's time for peace and love and I want your heart to be wrapped in this magic and for you to have a happy and holy Christmas!
Merry Christmas to you
May this Christmas remember those who live in war
and make a prayer of peace for them.
I would like to remember those who hate and pray for them in love.
I would like to forgive everyone who hurt me and do
a prayer of forgiveness for them.
I would like to remember the desperate and pray for them in hope.
I would like to forget the pains of the year that ends and say a prayer of joy.
May I believe that the world can be even better
and make a prayer of faith for him.
Thank you Lord for having had something to eat and spend the year hungry.
To be healthy when so many suffer at the moment.
To have a home when many sleep on the street.
To be happy when many cry in solitude.
For loving how many live in hate.
For my peace when so many live the horror of war.
May you have a wonderful Christmas and a happy new year.
Happy holidays to you!

A bright Christmas
Christmas is the birth of Christ. The new year is the birth of a new hope.
May your Christmas be bright with joy and illuminated with love. Merry Christmas and that your new year is full of hope.
Christmas and Christian values
Merry Christmas, solidarity, balance, family, celebration, recognition, wisdom, solidarity, light, prosperity, hope, forgiveness, strength. faith, love, peace, patience, humility, equality, sincerity.
Christmas Spirit
May the Christmas spirit bring to our hearts the unshakable faith of those who believe in a new time of peace and love. Happy Holidays!
The meaning of Christmas is love
May Christmas show us the best of us, reflect on its meaning, be able to make our hearts generous, caring and full of the love of Christ Jesus.
Ideas for Merry Christmas greeting cards
The best of Christmas
Best of all the presents under the Christmas tree is the presence of a happy family
Christmas Eve
We make sure that our life is prolonged on Christmas Eve, continually being reborn in love and brotherhood.
Christmas, a night of joy, songs, celebrations, good times. May your heart blossom in love and hope!
The real Christmas present
This Christmas, open your heart and receive all happiness as a gift.
Bring family and friends together to exchange best feelings.
A Christmas that shines in the hearts
There is more, much more, for Christmas than by candlelight and joy. It is the spirit of sweet friendship that shines all year round. It is consideration and kindness, it is hope reborn again, for peace, for understanding and for the benevolence of men.
---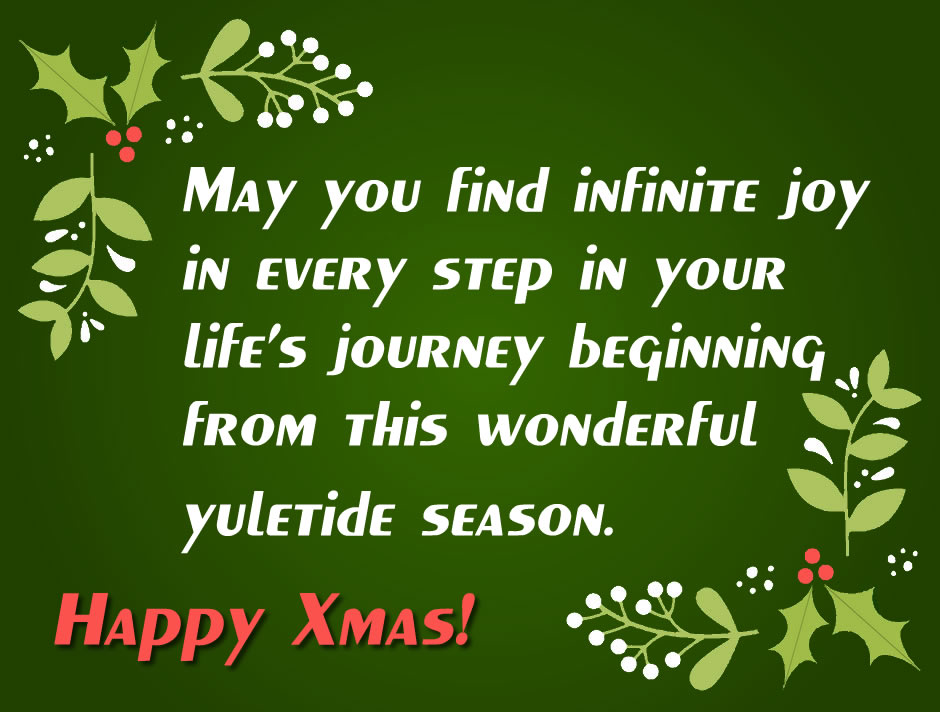 Image with a green background decorated with sprigs of holly and text for a message of happy holidays: May you find infinite joy in every step in your life's journey beginning from this wonderful yuletide season.
---
Every year a new Christmas
Next year, challenges may meet you, so your results are even more successful.
Growing, surpassing, deserving, dedicating a lot, concentrating, dreaming, never giving up.
May the magic of Christmas combine the strength of the new year, bringing peace, health and good energy every day of the following year.
May everything become happiness at Christmas
This is the time for gifts, the party and the biggest celebration every year.
It is time to embrace, take care and practice good at all times. This magical date has arrived which deserves to be lived intensely. Merry Christmas!
At Christmas nobody sad
May health, love and joy for all hearts not be missing. Do not let any house know sadness or bitterness and let everything become happiness.
Happy holidays to all!
Short sentences for a Merry Christmas to share
Merry Christmas, you deserve it!
Merry Christmas and a year full of good surprises. You deserve it!
Christmas hearts
I would like a world full of happy, happy and peaceful hearts. Merry Christmas!
Christmas offers
This is the most beautiful and important moment to give, do good and take care of those in need. Merry Christmas!
My greatest gift
This Christmas I have not written a letter to Santa because I have already received my biggest gift: you!
Best wishes for this Christmas
I hope that this Christmas your heart will be full of hope and love and that joy and peace will reign in your home. Happy Holidays!
Happiness is experiencing Christmas
Happiness is living Christmas with love and joy in your heart!
Christmas toast
Christmas is the time to thank for what has gone by and toast for the future that awaits us!
Peace and good in hearts this Christmas
May the joy and happiness of Christmas bring peace and goodness to our hearts. Merry Christmas!
I wish you a magical Christmas night
This is the most magical time of the year!
When the Christmas lights start to shine, our hearts start to heat up. BEST WISHES!!
Christmas won't go away
Happy Holidays! May this Christmas come full of peace, love and health and never leave.
---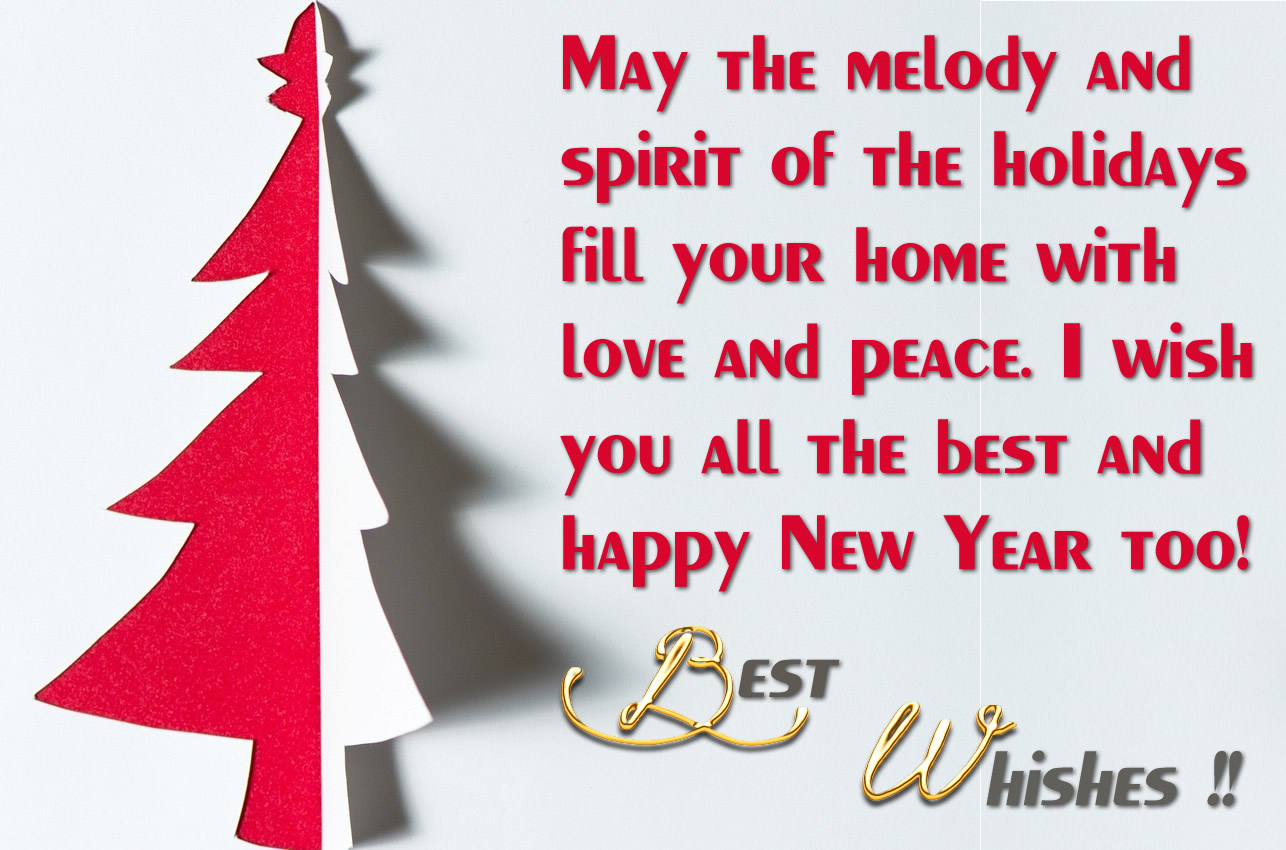 Image with a stylized Christmas tree to share on social networks with a Merry Christmas greeting text: May the melody and spirit of the holidays fill your home with love and peace. I wish you all the best and happy New Year too! .
---
Christmas poems to send as greetings
Christmas poem
It is Christmas! It is Christmas! It's Christmas!
From life the magic is in the air and in the hearts and on the moon
and on the sea. It is Christmas! It's Christmas!
And the children in the clouds will
they hear and sit alone
or with someone, but surely they are happy
because it's Christmas!
And lighter adults
they walk and without running
chase the sweet tenderness of this date so special that
it's Christmas!
It is Christmas! It is Christmas! It's Christmas!
Peace in heart and love among all is the purpose
and the reason. It is Christmas! It's Christmas!

Poetry Christmas tree
We want to put a tree
in our hearts and put gifts instead of
The names of our friends.
Those from afar and those close,
the old and the recent, the ones we see every day
and those who don't.
Those we remember And the ones we forget.
Those of difficult times And those of joyful times.
Those who have inadvertently injured
and those who hurt us.
Those we know deeply
and those we know superficially.
Our humble friends and the important ones.
Those who taught us
and those who have learned.
We want a tree with deep roots in so that the names
will never be taken by our hearts.
A broad-leaved tree in so that the names that come
they can join existing ones.
A tree of pleasant shade.
For our friendship to be a moment of rest
In the struggle for life.
May the spirit of Christmas far smile every tear,
from bitterness to wisdom,
and from every heart one open house to welcome everyone.
Merry Christmas!

Merry Christmas greetings
What I want for you this Christmas
For you, I want: a lot of peace, a lot of joy, a lot of love, a lot of happiness, a lot of success and a lot of light this Christmas and the Year that will be born! Happy Holidays!
Magic is in the air
It is Christmas! The most magical time of the year has finally come.
It is time to live the days with joy and peace with family and friends.
Soon the gifts will be opened and the prize will be given for the whole year.
It is a time for reflection and to live intensely all the hours of renewal that this date deserves. United children and adults will make this world even more wonderful.
Merry Christmas!
The magic of Christmas renews energy
Christmas came and with it the purest of feelings.
This Christmas magic renews your energies and it is wonderful to be able to pass them by your side!
You are my great love and this holiday season becomes even more beautiful by your side!
I am very happy that we will celebrate this spell date together and celebrate not only Christmas, but the love we have and now it becomes even stronger!
Merry Christmas!
---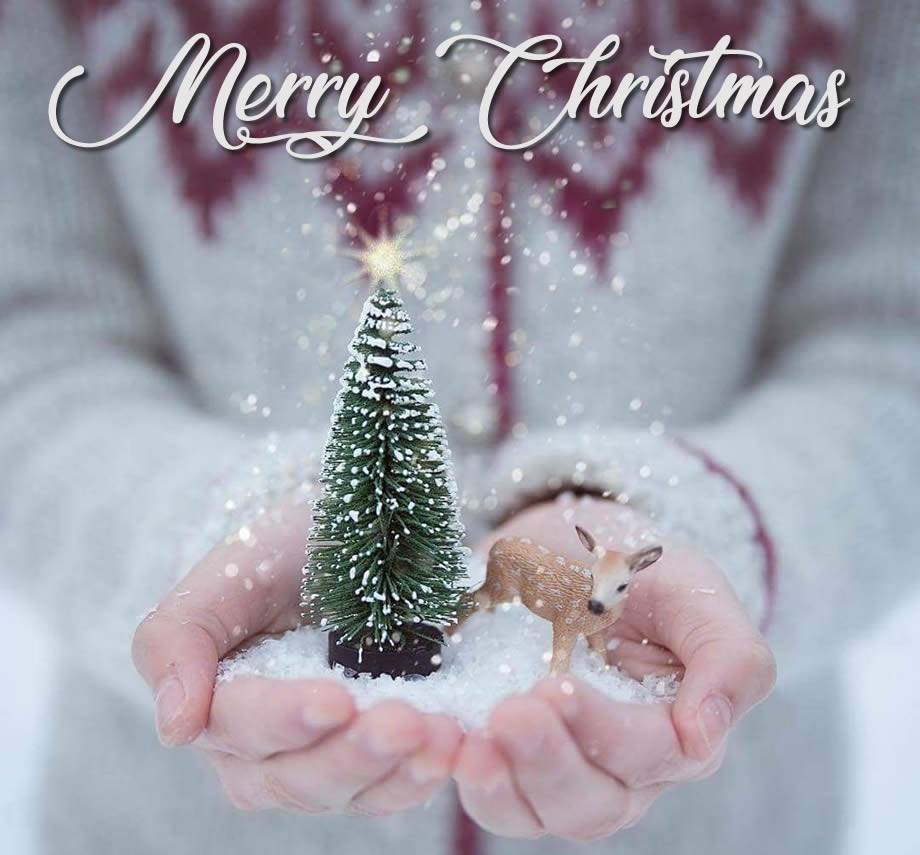 Image of a girl holding a Christmas tree with a small deer in a snowy landscape .
---
A Christmas forever
May the spirit and joy of Christmas remain in your heart forever, my dear. I love you!
You are all I need to be happy, and my biggest wish is for everyone to be happy too. Happy Holidays!
Christmas lights our way
Christmas lights up our path every year and this is always a moment of great significance.
Christmas makes us look inside each of us.
It is a moment of gratitude, of reflection on the year that ends and thanking you for the good things.
It is time to give gifts to those we love, to be close to the family.
It is time to embrace your friends, forgive your enemies and toast the moment to come!
I wish everyone a merry Christmas!
A special Christmas and Christmas spirit
I wish everyone a very special Christmas with family and friends. May there be no lack of joy, celebration, love and much peace in every home.
Let's enjoy the colored lights and the magic that appears in the air.
We will do good and extend this date forever.
Yes, because Christmas deserves to be lived every day.
It's time to enjoy and live the true Christmas spirit intensely. Merry Christmas!
Christmas gifts
This Christmas, what I wish for you is that you receive many gifts. Not only those who are wrapped and placed under the tree.
But above all those who fill the heart.
And there is no better Christmas present than a close-knit family celebrating in harmony; with much love and care.
Knowing that everyone we love is happy and healthy and that there is hope for tomorrow.
These are the real Christmas gifts that I hope you will receive in abundance. Merry Christmas!
Christmas with hugs and love
I wish you a merry Christmas, full of spells, hugs and love! I wish you were close to those you love and that Christmas night is magical. Let the Christmas lights illuminate you! Merry Christmas!
The arrival of Christmas
The arrival of Christmas brings color
and a lot of light in our lives and also beautiful sensations in the
our hearts.
Hope this season
fill your life with magic
and that you receive a lot of love and peace
as gifts.
may everyone you love to gather around you
in harmony and celebration.
And so, with the arrival of Christmas, happiness it also comes into your life.
Merry Christmas!
The Christmas voucher
Merry Christmas! That in this very delicate moment there is no lack of reasons for the good to come at any moment.
The best feelings should be in everyone's heart for the magic of this date to blossom.
It is time to remember, thank and recognize the wonderful surprises that life offers us.
We gather family and friends and enjoy this Christmas in style.
Happy Holidays!
Happy holidays and merry Christmas to our parents and students
We wish you a joyful Christmas with lots of unity and harmony.
The end of the year is always a magical moment. It's time to end the cycles, welcome the new year and thank you for what happened.
This year has ended and has given us much joy. We know it has been a year of great learning, the commitment of our students and a lot of dedication.
Now is the time to rest properly because, soon, everything starts again. Happy New Year!
Merry Christmas, parents and students!
---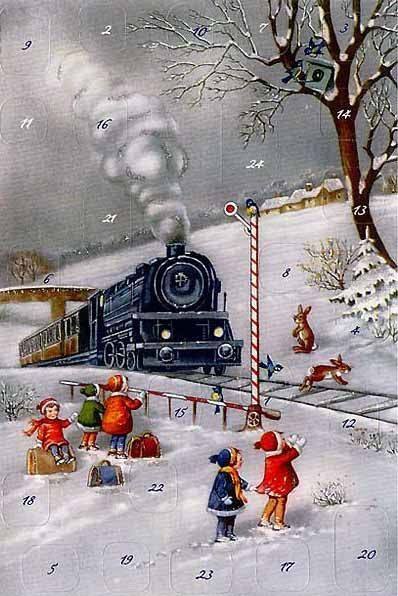 Old Christmas greetings card those that were sent with traditional mail. Years ago, the stakes were flooded for weeks by sending thousands of letters and greeting cards for happy holidays, just as it does now on chats and social networks, in the hours before midnight of the holidays .
---
The Christmas infection
It's Christmas and everyone has a different hope. It is Christmas and there is no way not to let yourself be infected by all the colors and magical lights full of life.
This date is the most beautiful and special of all. Merry Christmas!
A Christmas with joy in abundance
Let there be no lack of food on the table and love in hearts. That there is no lack of joy in the face and a thousand emotions.
It's time to live this Christmas with all your strength and hopes. It is time to love, worry and thank. Happy Holidays!
I wish you peace and well-being for your Christmas
May happiness, love and peace be present at your Christmas, dear friend.
This is a moment of union and harmony and there is nothing better than to wish good on this very special day.
I hope you can be with the people you love, that the table is full and that it will be a moment of many sincere smiles and hugs.
Merry Christmas and happy new year!
Merry Christmas, dear professor
Dear Professor, we have finally reached the end of the year and now we are going to deserved holidays, but first I would like to wish you and your family a Merry Christmas!
I don't need to make any effort to realize how dedicated and involved you are in your lessons.
It's always a great pleasure to learn from someone who likes what they do so much.
Master, I wish your Christmas was a lot of peace, joy and unity. I hope to see you again next year for further lessons and learning. Happy Holidays!
Long-awaited Christmas
The most awaited time of the year has arrived.
Children dream of Santa Claus, adults try to make their dreams come true and everyone lives in the harmony of lights full of Christmas colors. Happy Holidays!
May the parents of our students spend a holy Christmas
The whole year is dedicated to our children, but Christmas is a time when our attention with them is double.
But to be happy, parents and family members must be well, so our desire is that the parents of our students have the holy Christmas they deserve, full of gifts and lots of love.
---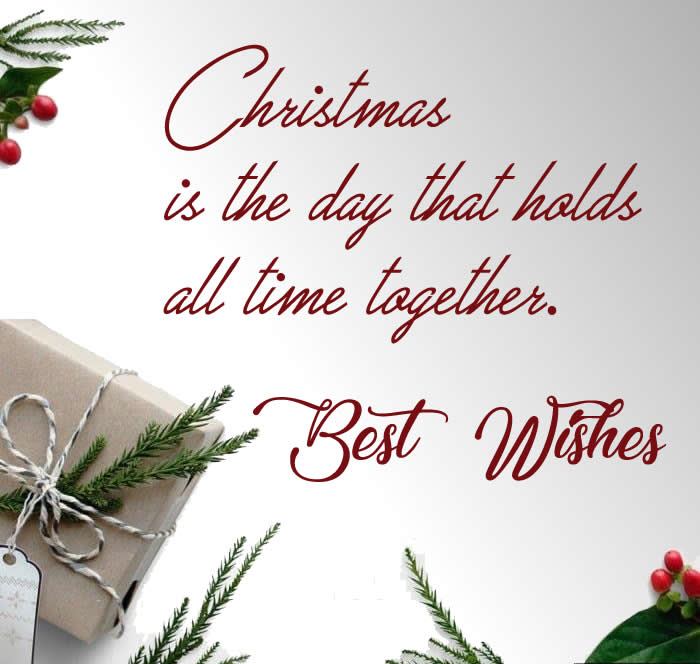 Image with decorations and Christmas gifts with phrase for greeting cards and messages Christmas is the day that holds all time together. Best Wishes!
---
Christmas, everything is festive
Today everything is in celebration; everything is beautiful and magical, full of colors and joy everywhere. May this be the most beautiful and exciting Christmas Eve ever.
May the Lord offer us all that we desire on this journey of peace and reflection.
I would also like every house to have a peaceful, bright and cheerful night with friends and family.
Christmas received with open arms
With open arms I receive this Christmas that promises to be light and a lot of happiness. Happy Holidays!
First Christmas without father
Dear friend, this is the first Christmas without Santa Claus, without your everyday dad, without your hero.
I imagine the sadness and desire that you will feel, after all Christmas is the time for the family.
But know, my friend, that your father will always be with you and your family.
Don't surrender to sadness. This Christmas, celebrate life, rejoice to be alive and to be able to celebrate with honor the memory of those you love and who are no longer here.
We are all sorry for your loss, but consider Christmas as a moment of renewal, of rebirth.
Keep the love in your chest and bring out the pain.
I hope this first Christmas without your father can be peaceful, peaceful and bright. May love always be in your heart.
A kiss!
Christmas feelings
I wish Santa Claus would distribute love, peace and hope to everyone. Merry Christmas!
The Christmas atmosphere
Christmas came and brought joy, peace and happiness.
The atmosphere of harmony is already in the air; hope is already under all eyes and no smile is a lie.
This is a wonderful moment!
All that remains is to reunite all friends and family and enjoy the best of life: love.
It is time to laugh, but also to reflect on what is right and what we can improve. Merry Christmas to all!

Santa Claus gifts
Happy Holidays! May this Christmas be the most beautiful and special of all.
May also be the reason for the greatest smiles and sincere hope for the challenges that will come next year.
I'm sure Santa Claus will bring the best gifts for everyone.
Some will be more unforgettable, but all will be synonymous with love and joy. I wish a merry Christmas to everyone in this world!
Christmas reflections
Christmas has come, this moment of celebration, reflection and charm. It is time to fully enjoy this magical and full of surprises date. Merry Christmas! You can feel joy in the air and love in people's hearts. We celebrate with the people we love most.
May peace and harmony not be missing in every home.
And that Santa Claus brings gifts for all the children. Happy Holidays!
Christmas free of meanings
It doesn't matter what meaning we give to the celebration.
As long as there is joy, the family is gathered in peace and harmony, we have all the essential ingredients to make the best Christmas.
I hope yours is like this: the way you want it most and that the best gifts come in the form of a lot of love, health and happiness. Merry Christmas!
---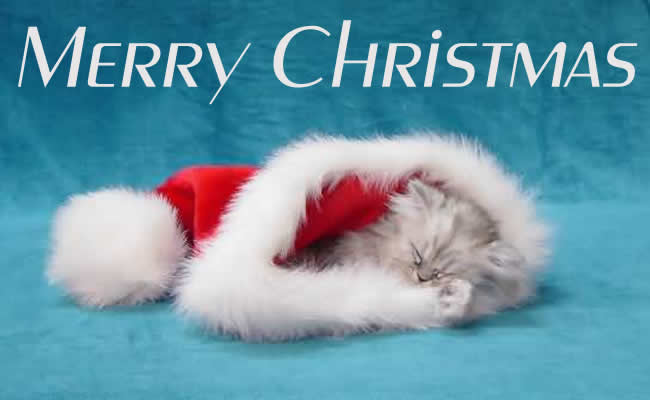 Image of a cute kitten in Santa's hat.
---
May it be a bright Christmas, students
The time has come to celebrate one of the most magical moments of the year.
Merry Christmas, dear students! May the joy of this date be present in your homes. Enjoy the rest of the Christmas holidays, enjoy the unity and harmony of the family and, above all, spread the Christmas spirit.
This is the time to smile, do good, desire beautiful things for everyone.
May it be a bright Christmas, full of peace and love. Happy holidays, dear students!
So many presents this Christmas
Merry Christmas! May you receive many gifts this year and the main thing is the love and unity of your family.
Christmas in every home
Merry Christmas and Happy New Year is what I wish everyone!
When this special time of the year comes, I keep thinking about the luck and happiness I have to have the most beautiful people by my side.
Maybe it's because it's Christmas, but everything seems magical and exciting.
I just hope that the joy will remain in every home and will remain until the new year which will be even brighter than this.
Holding hands at Christmas
This Christmas will be remembered forever; it will be beautiful and very special.
I feel in the air that joy will be contagious and happiness in everyone's hearts. Merry Christmas! I just want to see smiles and peace, love, health and harmony.
This is my great desire for this truly extraordinary moment.
Let's hold hands and enjoy a magical Christmas with family and friends.
Thanksgiving for Christmas
Every day this year you were there, making me smile when I wanted to cry more.
All your words comforted my heart when I needed it most. And it is with great affection that I wish you all the best in your life and a Christmas full of joy.
May all your dreams come true this and all the Christmas that are yet to come.
A big hug and Merry Christmas!
A flowery Christmas
I wish you a Christmas and a New Year full of the most joyful flowers, the most perfect thoughts, an immense light that will illuminate your paths and, above all, with all those dreams that only God can allow us to have.
December 25th
So it's Christmas ... And for today, celebrate life, love, forgiveness, peace ...
Yes, celebrate the presence of God at all times and thank him for being alive and for the privilege of being able to celebrate another Christmas day.
Good morning! Merry Christmas and happy!
A beautiful Christmas
It would be nice if it were Christmas every day ... People would be kinder and less loving, more tolerant and less aggressive because of the failures of others.
Families would be more united and would need no reason to come together and celebrate life and mutual joys.
It would be nice if every day was Christmas ... People's life would have much more meaning.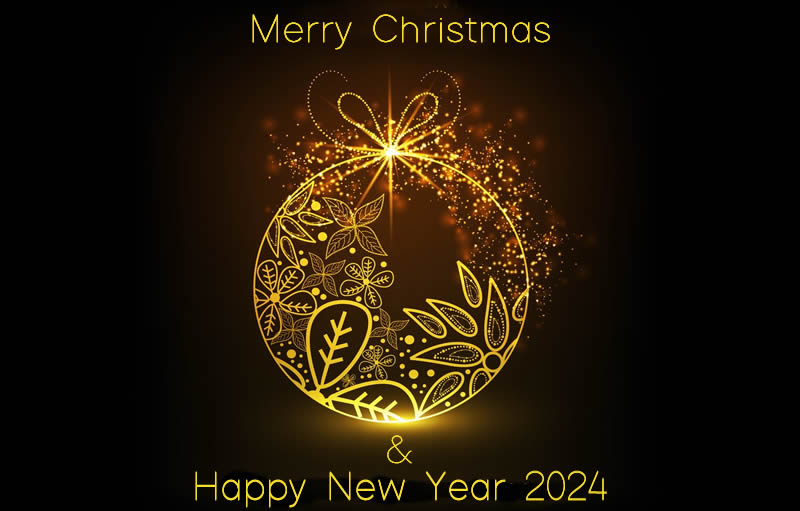 Image of a decorated and bright Christmas ball with greetings from Happy Holidays in Italian and English
As beautiful and fun as it is to exchange gifts, messages, phrases, images and videos, celebrate with friends and relatives, decorate the house, sing songs and have a nice dinner, they cannot be considered more important than the real meaning of December 25th. it is essential to remember that today we celebrate the anniversary of the birth of Jesus Christ, the Redeemer and Savior of humanity.
May the birth of Christ motivate us to remain united, focused on the same objectives.
Whether we are believers or not, the teachings of Jesus are of the highest moral value that all humanity would like to live, without distinction, beyond any religion or culture.
Let us wish for a true good Christmas to all, putting aside enmities, grudges, bad things made or received. Let us remember this, nobody can throw the first stone to another brother, but we can love everyone, without distinction.
This is the true teaching of Jesus and Christmas. Greetings.