Image for
Christmas greetings
Image with a pendant of Santa Claus and a phrase of Christmas greetings: If you don't know what gift to give to your loved ones at Christmas, I know one: your love! Happy Holidays!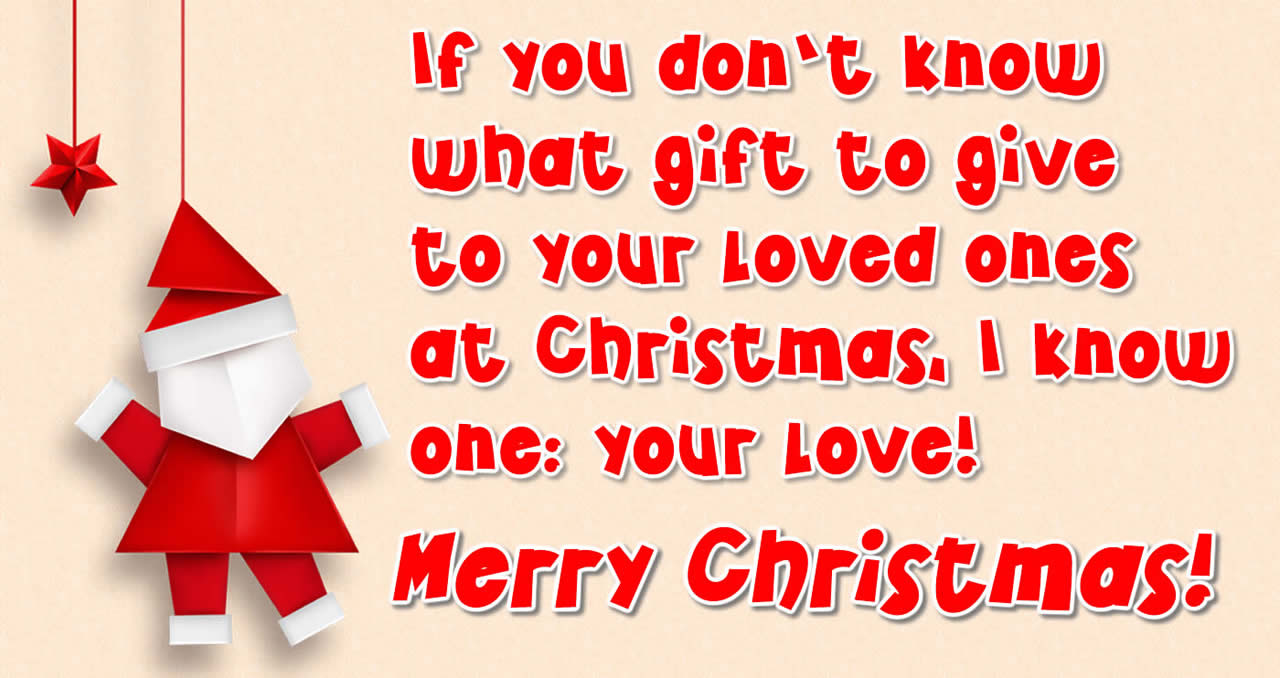 Cheerful image with Santa Claus and a red star hanging from a thread, with a meaningful Christmas message.
All images can be downloaded, edited and used for personal and commercial use, without permission. Reprinting on other sites, public retransmission and reproduction of the images is prohibited
You can download this high resolution image (PNG format) free of charge for printing and creating a Christmas card. DOWNLOAD IMAGE (ZIP)
Some greetings messages to send with this image
Sometimes it doesn't even seem so easy to write sentences and wish all the best for our family, perhaps in your thoughts and heart you certainly have it, but translating them into messages can become difficult, here are some inspirations to help. Of course the right phrase varies for the personality and depends on how they are, and only we have a relationship. We have selected some that differ in tone and originality, so as to make the perfect wish for anyone on that special December day!
• May happiness not hesitate to come, I wish you peace and joy! Let all good things happen in the new year. Let the dream find a place in life!
• A cup of illusion, four tablespoons of tenderness, a pinch of friendship and a lot of sincere love: a recipe for the perfect Christmas.
• I wish you did not have to endure sadness and that only joy can come to meet you in the future!
• Christmas has arrived, and with it happiness, and let the boredom and bad weather dissolve!
Let miracles bring good mood and let your loved ones surround you with love! Happy Christmas.
• Christmas heat that warms the entire planet!
Let it light up your home.
May all the ice melt at Christmas without a trace!
And may goodness always triumph. Merry Christmas
• May this Christmas turn every tear into a flower, every disease into a star, every wish into a smile and every heart into a warm home.
• I wish you bright days. So many faithful friends!
A sea of joyful events.
Important discoveries for the soul!
• May the gift of destiny be an annual subscription to the joy of Christmas!
• May the beauty of Christmas bring you happiness!
Let your friends and family know the Christmas spirit!
Make mutual understanding a common property!
I want love to reign again and again!
• Let's open the way to dreams!
I sincerely wish Christmas to the flock of peace!
---
---