Image for
Christmas greetings
Image with Christmas tree and greeting message: Merry Christmas to the person who makes me feel merry and bright every day.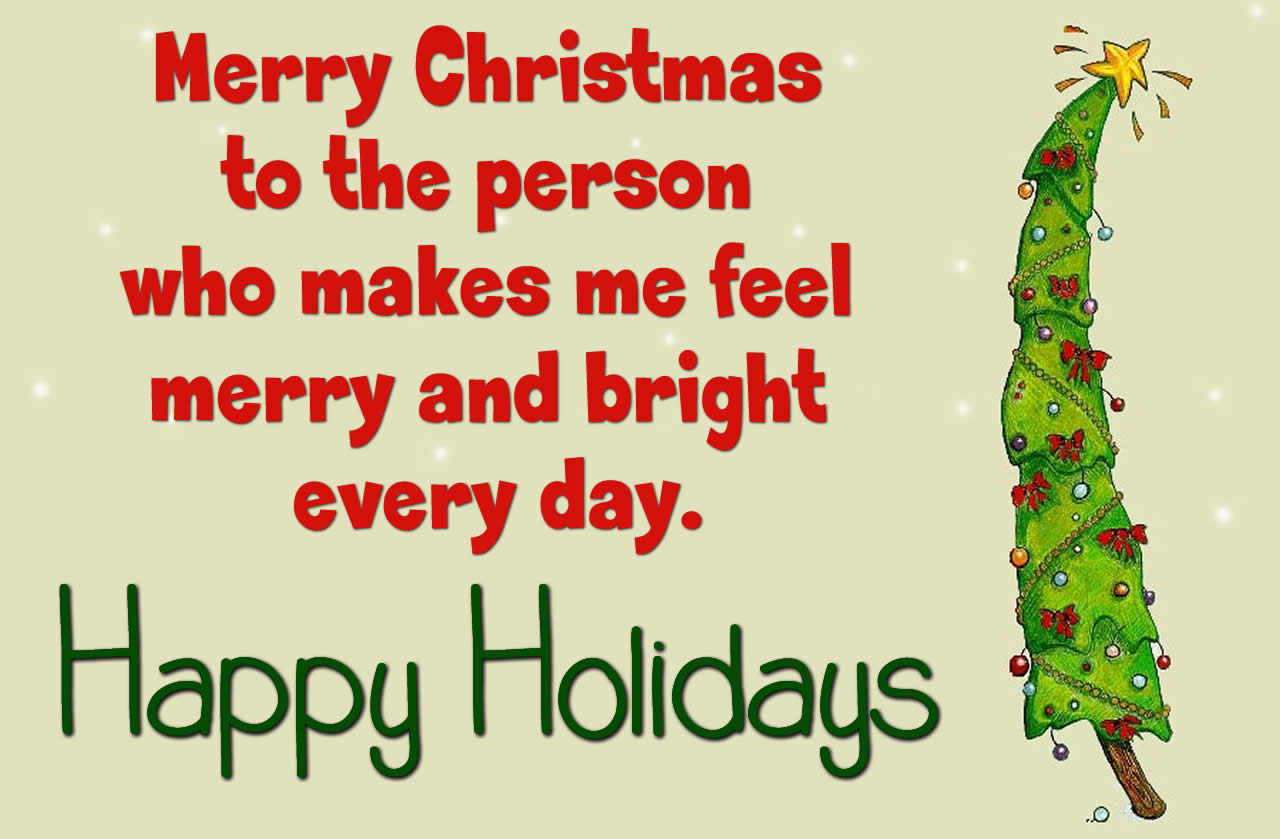 Picture with a nice drawing of a Christmas tree with a touching Christmas message
All images can be downloaded, edited and used for personal and commercial use, without permission. Reprinting on other sites, public retransmission and reproduction of the images is prohibited
You can download this high resolution image (PNG format) free of charge for printing and creating a Christmas card. DOWNLOAD IMAGE (ZIP)
Some greetings messages to send with this image
The Christmas spirit is perfectly captured in this selection of Christmas messages used in greetings and wishes. They talk about friendship and love, the passage of time and the intimate and social bonds that unite people in this particular holiday season at the end of the year.
• This Christmas put your pains aside and receive all my wishes for the new phase of life that is beginning.
• Christmas is that sweet space where memories, hugs and laughter are fantastic.
• Even if other things have been lost over the years, let's keep Christmas bright. Let's go back to our childhood faith.
• I hope this Christmas you are protected by four angels: health, love, happiness and serenity. But if you need another angel, remind me because I'm here, I'm not as beautiful as an angel, but I really love you. Happy Christmas!
• Christmas is innocence and sincerity, the charm of living with hope in a better world.
• God never gives a gift to someone he is unable to accept. If you give us the gift of Christmas, it is because we all have the ability to understand and accept it. (Pope Francis) Merry Christmas and happy holidays!
• Broken hearts understand Christmas beyond words.
• Celebrate Christmas like a child, enjoy innocent joy.
• When Christmas calls us, no one is excluded, from the smallest to the oldest who come together in a big hug.
• Christmas is the best medicine for the growth of solidarity, peace and friendship.
• You have always given me more than necessary and it is never enough to give you. If I had all the love in the world in my hands, it would be for you.
• If my smile serves as an ornament for Christmas, count on it, if my hand can help you, you have both, if my heart brings happiness, it's all yours.
• May magic be the best dress of this holiday season, your smile the best gift, the eyes of your best destiny and your happiness, my best wish.
---
---