Image for
Christmas greetings
Beautiful and elegant image with a positive and encouraging message for the Christmas holidays: I hope that the new year will be full of positivity for you. It's time to embrace the joys it is bringing for you. Merry Christmas and Happy New Year!. Perfect to send as a greeting card, even in the professional field, both for its elegance and for the content of the text, proactive and confident.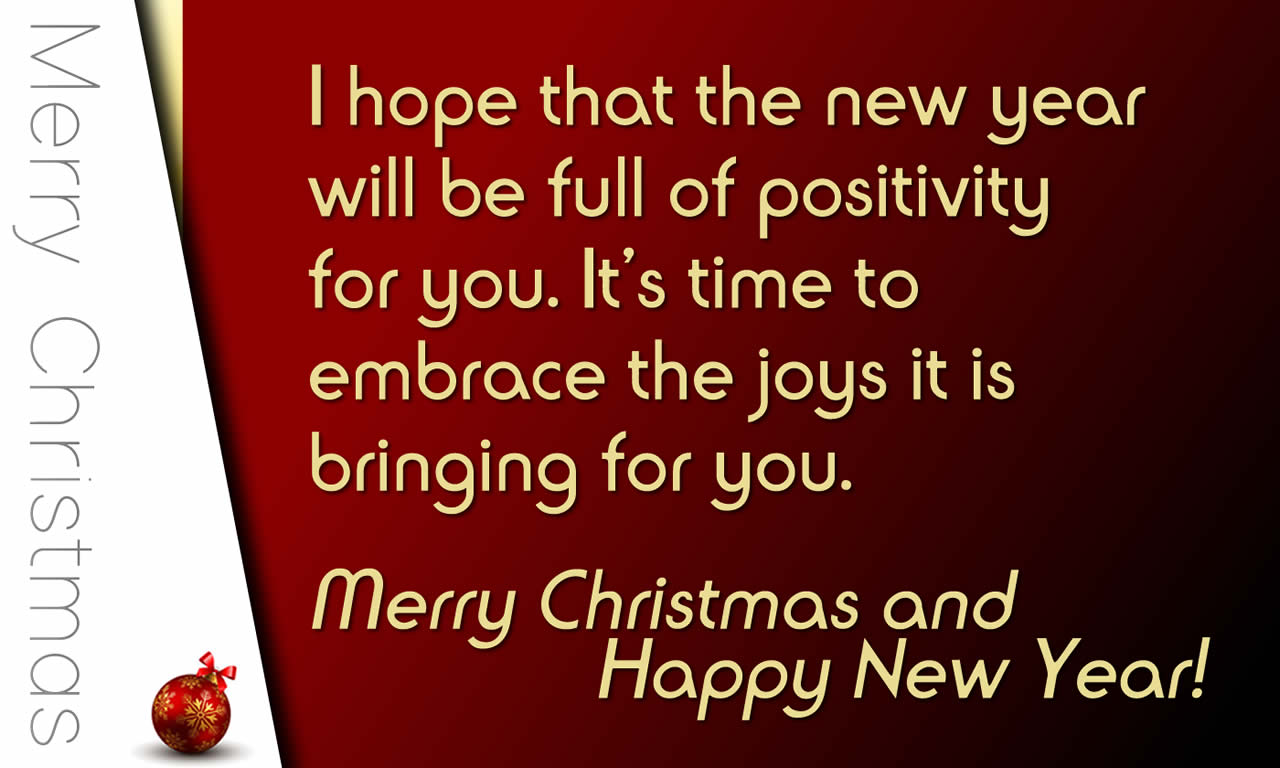 Elegant image to use as a holiday greeting card with a beautiful uplifting message
All images can be downloaded, edited and used for personal and commercial use, without permission. Reprinting on other sites, public retransmission and reproduction of the images is prohibited
You can download this high resolution image (PNG format) free of charge for printing and creating a Christmas card. DOWNLOAD IMAGE (ZIP)
Some greetings messages to send with this image
What is more important in the Christmas holidays, besides creating atmosphere, communion with loved ones and giving gifts? Each part, of course, is part of Christmas! This is a simple, fast and most importantly completely free way to show attention to a person.
Sending the same image with a phrase in WhatsApp "in group" is considered a bad form of attention for the person, that's why we have written the best Christmas wishes , which you will not find anywhere elsewhere on the Internet. Send with pleasure and for free! And don't forget to share our beautiful website with your friends.
• The night of December 25 has come and the bells rang, Christmas tree, sparkling garlands, will vividly decorate our Christmas, let everything be magical in these holidays.
• For Christmas faithfully protect your world, seek comfort, love and joy! And adversity will turn everything into sweetness!
• The door of childhood has been closed for a long time, faith in a miracle hides time ... I want to melt that ice. May some fairy tales come true this Christmas. Congratulations!
• Believe in the magic of Christmas, it's time to do it!
Hope your wishes come true!
Awaken the Power of Fantastic Laws!
And may the supernatural be welcome now!
• Christmas will bring many delightful, colorful and bright gifts!
And health and happiness, to dispel any doubt, happiness is easy to hold hands.
Live without pain or boredom!
• Grab happiness with courage and a healthy laugh.
Let me chase away all distractions to enjoy life and wake up with a smile every morning!
Guide your days with luck, let everything be positive!
Merry Christmas!
• I want you to remember what joy brings!
I want to remind you of everything that inspires!
May there be no room for disappointment in life, may all misfortunes stop! Happy holiday!
• May this Christmas be truly trustworthy, generous and, of course, amazing!
---
---