Image

Christmas tree

with neon lights

Beautiful image with Christmas tree and gifts made with the effect of colored neon lights. Happy Christmas !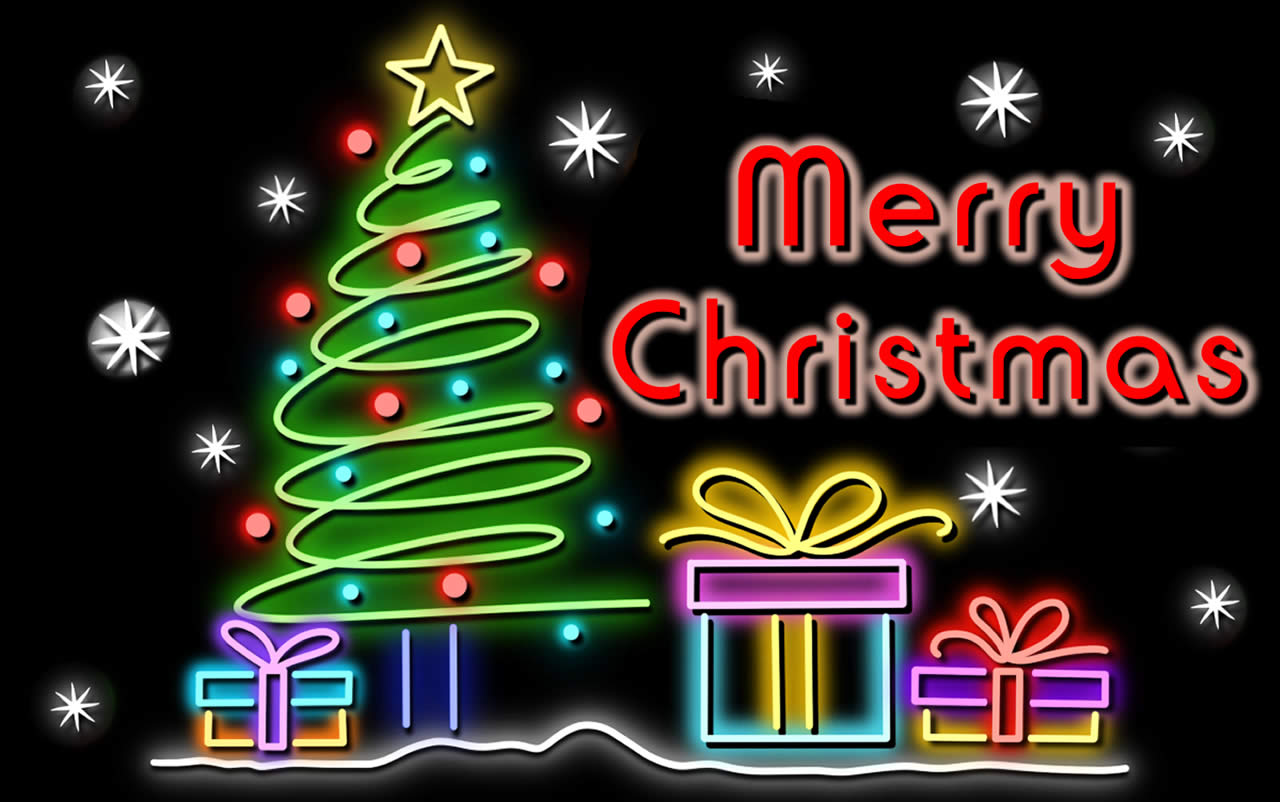 Black background image with Christmas tree and gift boxes, all illuminated with colorful neon lights. Many white stars light up this beautiful Christmas card.
All images can be downloaded, edited and used for personal and commercial use, without permission. Reprinting on other sites, public retransmission and reproduction of the images is prohibited
You can download this high resolution image (PNG format) free of charge for printing and creating a Christmas card. DOWNLOAD IMAGE (ZIP)
Some greetings messages to send with this image
There are not only gifts at Christmas. This magical party is so much more: it's its unique atmosphere, it's a joy to be together and share carefree days and it's also known for showing your love and affection for loved ones. Therefore, it is very important to choose the Christmas greetings correctly depending on the person you want to congratulate.
Plus, there's nothing better than making personalized cards to make anyone who receives them feel even more special.
Many times, however, it seems difficult to find the perfect phrase for our Christmas greetings. Therefore, we have chosen those suitable to focus on friends, those tailored for acquaintances a more formal tone and also messages ideal for family members and closest partners to feel all our love. You can really create greetings and cute cards for your closest friends! A more touching phrase for those who are ironic and funny, but to share only with those who really know us well!
• Hoping that peace is not just a gift of a magical night, but of all existence, I wish you a sweet Christmas.
• You are in a foreign country or in your country of origin, do not change, Christmas is coming!
• Feel the wonders of this magical atmosphere!
A special moment in life, to be enjoyed even in a hectic but unique context! There are so many projects taking shape! The breath of Christmas will lift you up a little!
Whether at work, resting or sleeping, the Christmas holidays will light the way anyway!
• Prepare your best smile, but be sincere! Everyone wants to be happy at Christmas. Give your beautiful smile to those you love. Happy Christmas.
• Merry Christmas for everything you find under the tree, for every smile that makes you feel good, for every hug that warms your heart. Best wishes!
• You realize that you are getting old if Santa Claus doesn't seem so old this year ... Merry Christmas!
• May love and faith in miracles always accompany you even in such difficult times! Merry Christmas.
• Holidays are in the air!
Christmas always comes suddenly!
I sincerely hope that miracles are more accessible to you.
Sincerely, open your soul! Let goodness enter your world!
• Goodness is perhaps immeasurable, alive, beautiful, fragrant!
Let the old pains disappear and the joy overwhelm all the negative, at Christmas anything can happen.
• Christmas is knocking on the doors!
Wishing all dreams come true, give us love and a fantastic fairy tale.
Keep love and peace, this is the basis of everything!
I wish you endless and limitless good luck!
• With whom and where? It doesn't matter!
Everyone deserves to spend Christmas with the family!
I wish you a warm Christmas!
Let love protect you! Happy Christmas.
• Christmas, fireplace and candles, decorate a wonderful evening!
A delicious dinner with someone you love, definitely on the way!
Whether it's dad, mom, brother, sisters, uncles or just a date with an old friend or your lovely spouse, this is Christmas. Best wishes!
• I wish you a strong connection with happiness and goodness!
May your happiness work overtime to protect the home these days of Christmas.
• Christmas knocks on doors, the joy of miracles cannot be measured!
Cover everything, happiness, light and goodness with magic!
Like snowflakes on a winter's day!
So let the miracle become a habit of living in your world!
---
---