Religious message

for Christmas

greetings

Image with a religious message to send as a Christmas greeting card: When Christ entered our world, he didn't come to brighten our Decembers, but to transform our lives.. Happy Christmas!
For the church, Christmas is the most important Christian holiday, in fact it commemorates the birth of the Savior, Jesus Christ. So a phrase reminiscent of the Nativity of the King of Kings is perfect to send to your Christian friends and believers.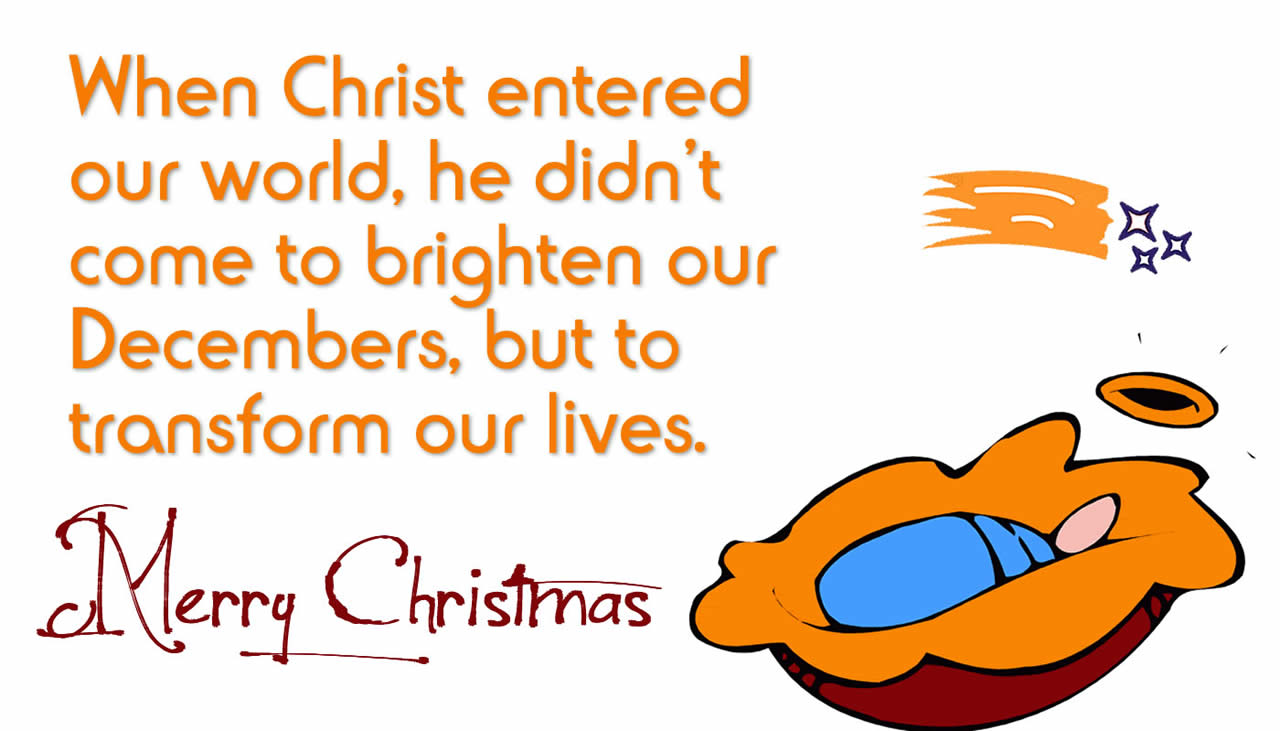 Clipart With Baby Jesus In The Manger And Comet.
All images can be downloaded, edited and used for personal and commercial use, without permission. Reprinting on other sites, public retransmission and reproduction of the images is prohibited
You can download this high resolution image (PNG format) free of charge for printing and creating a Christmas card. DOWNLOAD IMAGE (ZIP)
Some ideas of religious messages to share with Catholics and Evangelicals to be included as a caption to this image
The birth of Christ is a wonderful celebration of faith and goodness. Of course, at Christmas we want to share some happiness with family, friends and loved ones. This page will help you write perfect religious Christmas wishes , therefore viewed not from the worldly side, but with a spiritual vision for believers who live their lives in the faith of Jesus Christ. These short, beautiful words can convey the warmth of your soul over a distance. You can attach a delicate postcard to these thoughts, for sure your Christmas greetings will be even more pleasant.
• This hope does not vanish, it is rooted in our hearts.
May God's love be upon you like a dove!
Very positive sparks and that all dreams come true!
• For Christmas I will give away everything I create with my soul.
Everything I sincerely desire I send you with faith!
Human love, understanding and compassion!
May the birthday of our Savior Jesus give you the power of victory!
• Christmas is not just a holiday season. It is time to contemplate eternal things. The spirit of the spirit is the spirit of gift and forgiveness.
• The bells ring at midnight on Christmas Eve, the miracles of Christmas are coming!
Happiness, peace, warm light, they covered the whole planet!
May you know the real Christmas, only then, my friend, will you be consoled and rewarded for all the problems you have suffered!
And so peace and understanding will come! A real Merry Christmas to you!
• Christmas Eve, a wonderful time for miracles!
I sincerely wish love, sending good and joy!
• May you be filled with happiness, divine blessing in your intimate part, but also in family, friends, collaborators.
• On December 25th, Christmas will open its doors to us!
In the world of harmony, of love, where I would always like to live.
To Jesus, open your way that leads to yourself, and go forward, the next dream will come true!
• Let the Christmas touch put you in a good mood!
You will always remember it, take it as a divine blessing!
---
---